The Ringinglow Rocking Horse Company manufacture and sell traditional wooden rocking horses for you to buy. They are made in the UK from the finest woods and are designed to last for generations. Each rocking horse is lovingly prepared just for you and will soon become part of your family! Choose your rocking horse carefully, or call us and we'll be glad to discuss your options.
Our telephone numbers are: 0800 0746 104 or 01503 232 959.
Once Upon A Time...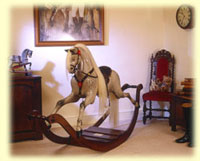 A little girl dreamed of adventures on her very own rocking horse.
Many years later she re-counted her story to her husband, who remembered the wooden rocking horse he himself had ridden as a child. "Mr Dapple" was rescued from the cellar and lovingly restored. They admired him so much they commissioned a reproduction rocking horse that could one day be passed onto their own children.
"Mrs Dapple" now stands gracefully upon a bow just as the little girl had imagined, reflecting gentle blue-grey hues into the room. Patiently she waits for her owner to jump on, so that they can take flight to wherever their imagination takes them.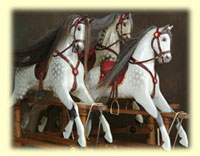 We have a passion to create the very finest traditional wooden rocking horses, and to help people to find their own special rocking horse. We now keep the largest selection in the country for you choose from, both our own designs and those of other rocking horse makers. We offer free impartial advice on any aspect of rocking horses.

Because choosing a rocking horse is such a personal and special process we encourage all customers to visit one of our showrooms to choose their perfect rocking horse. If you are unable to visit us we can come to you, bringing a selection for you to view in your own home - this is of course obligation free.

As we always tell our customers, you must take time in choosing your rocking horse, you must fall in love with him - he will be a part of your family for a very long time.